We had a lovely relaxed day yesterday, starting with a luxurious anniversary breakfast of scrambled egg and smoked salmon, cereal, fresh fruit salad, toast, and danish pastries, washed down with two lots of tea served in white china pots and poured into the most dinky bone china Ruby Wedding Anniversary cups that I found in a charity shop last year.
MWNN
loved his Morrocan Mint Tea that I bought from All About Tea, but said the best present was
the weblink
I sent him about the Oldest Temple in the World. He bought me a gorillapod and ball head for my camera, despite the facty we'd agreed 'no presents'. Mind you, I bought a gift voucher for a relaxing head and back massage for two at my health and fitness club and booked us in on our 'other' anniversary day so we're even on ignoring the pact.
Breakfast was at 9am, earlier than planned - we had thought it would be a brunch but Ron had me up at 5.30, barking at the neighbour who lives behind us and leaves the house at that hour every morning - so we both retired for a nap. Mine lasted over 5 hours. I must have been tired or something.
35th Anniversary Lunch, 2004, Paris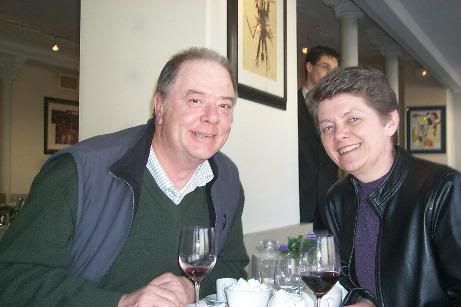 Dinner was very good, I cooked scallops with rice for MWNN, steak and salad for me, with champagne and a Cotes de Rousillon Villages.A huge apple/pear crumble followed the cheese. I would say that we enjoyed it as much, if not more, than the 35th Anniversary meal we had at
Au Trou Gascon
in Paris.
Bonus for today - I thought it was Monday until I looked at my laptop calendar. Another Slothful Sunday beckons.