hard on ourselves.
Projects completed so far this year
I wrote yesterday about how disappointed I am about the progress made in the Posh Sock Challenge 2012. Since then, I've been adding photos to the knitting projects I've completed since the beginning of the year. From the top of the photo, Sound of the Ocean Shawl, Chunky Tea Cosy, Wild Thing Jacket, Tuesday's Gentleman's Agreement Socks, Happy Monday's Socks, and Summer Bedspread. My, I
have
been busy.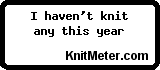 That's a fair ol' distance, one stitch at a time.